NAI Founders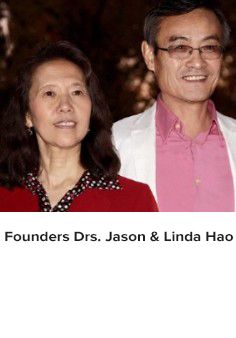 Letter from the Founders
Dear Prospective Student,
The Neuro-Acupuncture Institute (NAI) is pleased to offer the first ever: Comprehensive Training in Neuroacupuncture Program.
Located in Santa Fe, New Mexico, NAI's training program is a three level series. As a student, you will receive one-on-one guidance and supervision from our world-class professors, teachers, and trained staff.
Neuroacupuncture is in demand. If you wish you could do more to help patients with seriously debilitating central nervous system conditions, you will benefit from attending this course and from the expertise of many teachers on the subjects of neuroacupuncture, scalp acupuncture, neuroscience, neuroanatomy, the development of case studies, publishing, and more.
By adding expertise in the field of neuroacupuncture to your practice, you will be able to improve the lives of patients who suffer from neurological disorders, such as stroke, Parkinson's, PTSD, Autism, complex regional pain syndrome, and more. Oftentimes, these patients have no other recourse once they have exhausted the limited offers from western medicine alone.
Neuroacupuncture is a highly effective technique, synthesizing the best of modern and traditional Chinese Medicine with a medical understanding of the central and peripheral nervous systems. Patients often experience remarkable results with just a few needles.
We invite you to embark upon a journey of education, to join a growing community of practitioners, and to evolve your practice by learning the art of neuroacupuncture.
We look forward to welcoming you to the NAI network of integrative medicine experts, teachers, and practitioners and hope to see you at a training soon! 
Drs. Jason & Linda Hao
Co-Founders  
Jason Jishun Hao, DOM, MBA

Professor, Levels I, II, and III Neuro-Acupuncture Class

Dr. Jason Jishun Hao received his bachelor and master degrees of Traditional Chinese Medicine from Heilongjiang University of TCM in Harbin, China in 1982 and 1987 respectively. He received his MBA from the University of Phoenix in 2004. He has been teaching, practicing and researching acupuncture Chinese medicine for thirty-four years and has been teaching neuro-acupuncture classes and seminars in the West since 1989. He has trained hundreds of acupuncture practitioners and treated thousands of patients with disorders of the central nervous system in the United States, Canada, Australia, Dubai, and Europe. He specialized neuro-acupuncture for the treatment of stroke, cerebral palsy, multiple sclerosis, Parkinson's disease, traumatic brain injury, spinal injury, post-traumatic stress disorder, complex regional pain, phantom pain, and ataxia. He has taught neuro-acupuncture seminars sponsored by UCLA and Stanford for twelve years. In 2006 Dr. Hao gave a neuro-acupuncture seminar at Walter Reed Medical Center in Washington DC where he successfully demonstrated neuro-acupuncture treatment of phantom limb pain for veterans. His case histories have been printed in the U.S. Army publication Stripes, in Albuquerque Journal, in New Mexicans, in China Daily, and in Alternative Therapies. Jason Hao currently serves as the president at Neuro-Acupuncture Institute. He was the former chairman of the acupuncture committee in the National Certification Commission of Acupuncture and Oriental Medicine (NCCAOM), the former president of the board of directors at Southwest Acupuncture College. Jason Hao is the co-author of the book, Chinese Scalp Acupuncture.

Linda Lingzhi Hao, DOM, Ph.D.

Professor, Neuro-Acupuncture Class and Advanced Neuro-Acupuncture Class
Dr. Linda Lingzhi Hao received her doctorate degree in acupuncture from Heilongjiang University of Traditional Chinese Medicine in Harbin, China. Dr. Hao is a co-founder and Vice President of the International Academy of Scalp Acupuncture. Earlier in her professional career, she trained with Dr. Shunfa Jiao, the founder of Scalp Acupuncture. Dr. Hao is a successful practitioner of neuro–acupuncture and has a well-established practice in New Mexico, where she treats patients from all over the United States and abroad. Dr. Hao is also a professor at the Neuro-Acupuncture Institute. She is the co-author of the book Chinese Scalp Acupuncture and has published articles in both the United States and China, including publications in Acupuncture Today and the Chinese Journal of Traditional Chinese Medicine. Dr. Hao has also been teaching neuro-acupuncture throughout the country and has collaborated with Dr. Jason Hao in presenting internationally, including seminars in Europe, Canada, and Australia.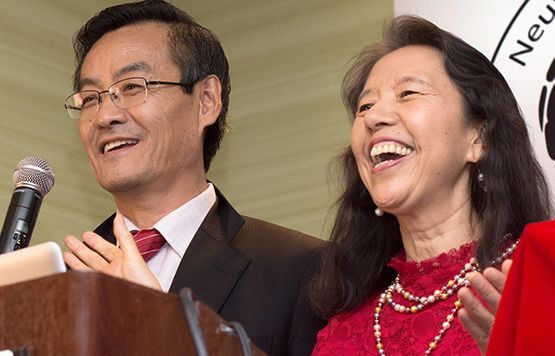 Dr. Jason Jishun Hao, DOM, MBA and Dr. Linda Lingzhi Hao, DOM, Ph.D. welcoming speech.